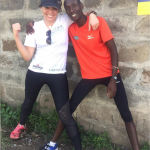 October 2016 | Hope Saloustros Senior Associate, at Wotton + Kearney


I became a lawyer because …
Growing up, my family and friends would make comments such as "you're such a lawyer". I would challenge ideas in conversation, usually have an opinion about the topic and speak up in order to be heard. This was the way in a migrant Greek household. Now I get paid to articulate my point of view!
I am really proud of …
My combined marathon and fundraising efforts this year. I personally raised $7,500 for Wotton + Kearney's charity partner, So They Can (contributing to our total fundraising efforts of over $100,000). I recently travelled to Kenya with some of my colleagues to see first-hand where the money goes and while I was there, completed the Maasai Mara half Marathon. I am not a natural runner, so the elevation (1,700m) combined with the equatorial heat and uneven terrain, made the run quite arduous. Despite this, I pulled up OK and came away from the trip believing I can do anything!
You can have it all …
But it comes with the acceptance that you cannot do everything perfectly all of the time. That is the trade-off of trying to have it all. Don't break a sweat if you forgot to read your kid's school newsletter this week. The expectations on working mothers and the expectations we place on ourselves are enormous. Be kind.
I am extremely grateful for …
My amazingly supportive and generous friends and family.
A key mentor who influenced my career is …
I have been fortunate to have had a number of mentors over the years. Most of them are in the law. They are hardworking and incredibly smart. I have learnt a lot and have been inspired by them.  
If I wasn't a lawyer …
I would be the lighthouse keeper at Wilsons Promontory National Park – the southern most point on mainland Australia. It's remote and rugged and has breathtaking vistas. Coming back down to earth, I would most likely be working in-house in a claims role with a progressive insurer.  
Before I started at Wotton + Kearney …
In the 12 months before I started at Wotton + Kearney I took time off work to nurture my newborn daughter. Prior to that, while working in the Insurance department at Norton Rose (then Deacons), I was seconded to the commercial litigation department. I worked on a high profile multi-million dollar case - which required travel to Spain, Portugal, Turkey, France, The Netherlands and the UK to interview witnesses. I was never happier to work long hours. That was definitely one of the highlights of my career!
The best advice I ever received was ...
When you take risks, you may fail or make a mistake. Pick yourself up, learn and build from the experience and keep moving.
One of the key legal initiatives I am involved in …
One of the key issues in our industry is how we approach and manage work flexibility and encourage diversity (particularly gender diversity). I am increasingly focused on mentoring and encouraging young women in particular. We all need to engage in discussions and initiatives on these issues.
Outside of the law …
As I work part-time, on my days away from the office I look after my son and daughter. I enjoy outdoor activities like skiing and hiking. A lot of people don't know I am also a kickboxer (inspired by Eric Bana's character in the widely acclaimed movie The Castle). Like most people, I also love to travel - the further off the beaten track, the better.