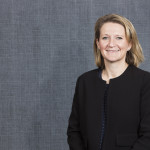 June 2017 | Jade Rowarth, Partner, Restructuring and Insolvency, Corrs Chambers Westgarth 


I became a lawyer because …
... my parents always instilled in us the importance of giving yourselves every opportunity in life and a law degree and legal training seemed to me like the best way to maximise my opportunities - I believe you can go far and wide with a law degree.
I am really proud of …
… my Mum who, following the death of my father when I was 16, raised us to work hard, strive for the best but to never forget where we came from and for getting us through the most difficult time in our lives and out the other side in pretty good shape!
You can have it all …
… I don't want it all – I just want a happy and healthy family and a successful and fulfilling career – I don't accept that this is not possible or that striving for these two things in life is something out of the ordinary.
I am extremely grateful for …
… most things in my life but mostly my family and friends. And for when the sun shines and you get that lovely feeling of warmth on your face.
A key mentor who influenced my career is …
… not so much a mentor but my best mate, James who has sat down with me at every major career juncture, produced pros and cons charts of the various options with me and who propped me up and pushed me through law school which ultimately got me here.
If I wasn't a lawyer …
… if I left the law now, I would probably do something completely different like landscape gardening or learning a trade! Something that would get me outside.
Before I started at Corrs Chambers Westgarth …
… I was on maternity leave with our second child. Prior to that, I worked in the restructuring and insolvency teams at Maddocks in Melbourne and Allen & Overy LLP in London.
The best advice I ever received was ...
... from my Dad who said treat everyone from the local garbage collector to the Prime Minister of Australia equally and with the same level of respect and courtesy.
One of the key legal initiatives I am involved in …
… I am the chair of the Victorian branch of the Turnaround Management Association which promotes corporate renewal and turnaround management and which has played a significant role in pushing for change to Australia's insolvency laws to enable viable distressed businesses to avoid insolvency where possible. With the safe harbour legislation being introduced into Australia later this year, the role of the TMA will become increasingly more important as more businesses seek out the advice of turnaround specialists.
Outside of the law …
… as a Melburnian, I love food, wine, coffee and sport in equal measure. Enjoying any one of these with friends or family would be an ideal day for me.
Last month's sponsor spotlight
Senior Associate 
Wotton + Kearney